Smetak
Anton Smetak
Anton Smetak is mentioned in the 1954 "History of Lugerville" by HelenMary S. Greene
Anton & Antonia Smetak Family Portrait
1909 in Pittsburgh, after emigrating from Bohemia, just prior to moving to Phillips.
Source: Frank Smetak, Great Grandson of Anton & Antonia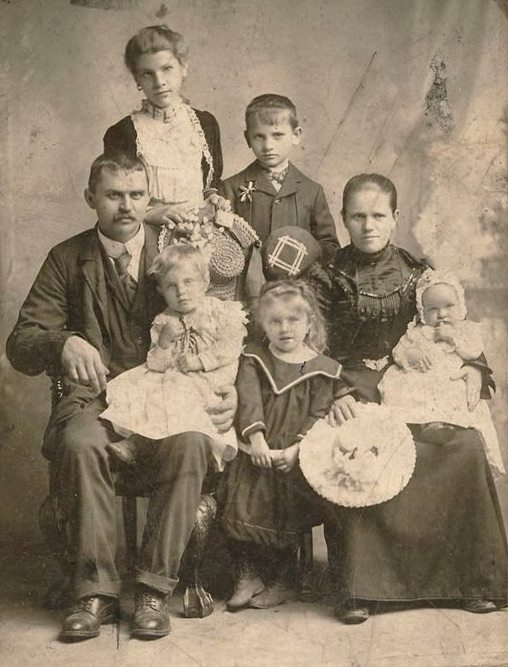 1910 Census:
Anton age 33 - Head of Household. Emmigrated from Austria (Bohemia)
Antonia Sykora Smetak age 38, Emmigrated from Austria (Bohemia)
Frank age 16, Emmigrated from Austria (Bohemia) (Grandfather of Frank Semak)
Mary E. age 11, Emmigrated from Austria (Bohemia). Later married one of the Malach brothers.
Louis (census listed Soujo or Svujo) age 9, born in PA
Eman (census was illegible: Emmon/Emma/Elena) age 6, born in PA
Annie / Anna age 4, born in PA
Rose age 3, born in PA
"Andy" Andrew James, age 2, born in PA

1910 Employment:
Anton was a Farmer, home farm
Frank was a Laborer on the home farm.
Frank later lived in Elk and worked at the lumber mill and was a train Engineer.
At age 22, he married Mary Voda, age 18, in June 1915. In 1925, he relocated his family to Universal, PA.
From the marriage license filed in Phillips, Price County, June 22, 1915. Mary was the daughter of Emil Voda and Sophia Tashek, both originally from Austira
source: Frank Smetak, Grandson of Frank Smetak
Mary E. Metak married one of the Malach brothers. Source: Frank Smetak
(1910 showed a Sister Mary Smetak in San Antonio. this is not "our" Mary)
Anton > Frank1 > Willis > Frank2
1945 Frank Smetak at Antonia's gravesite
2014 Source: Frank Smetak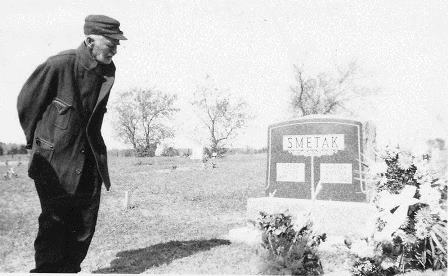 Louis Smetak
Below Left: Louis Smetak, #139 in the 1927 Mill Photo
Below Right: Mr and Mrs Louis Smetak. Source: Frank Smetak, Great-Nephew of Louis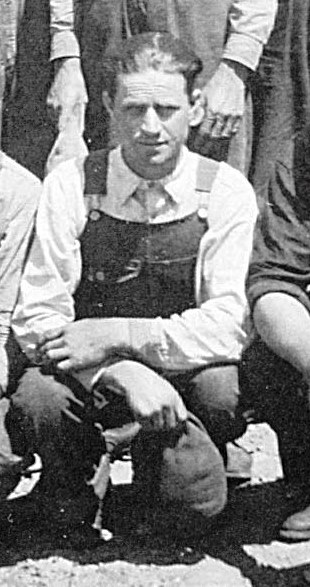 ~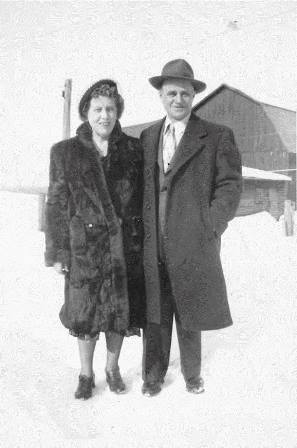 Eman (Emond) Smetak
Eman Smetak, #142 in the 1927 Mill Photo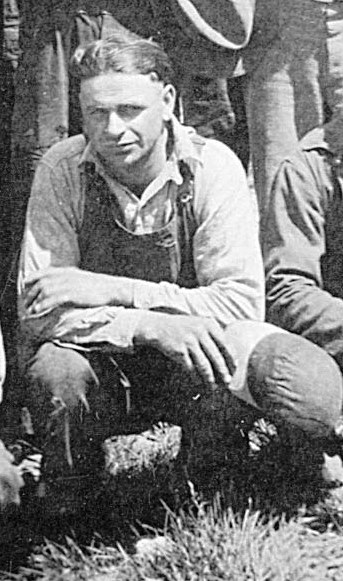 1920 Census:
1930 Census: lived on County F
Eman / Emond age 27 - Head of Household - born in PA
Ellen age 18, born in WI
James age 1, born in WI
1930 Employment: Eman was a Laborer, Saw Mill
NOTE: the Svoboda and the Smetak families are not related. There were a number of Svoboda's that came from the same area of Bohemia. Smetak's & Svoboda's settled in Universal, PA, just outside Pittsburgh, which was a Czech enclave, around the same time. They were neighbors and friends for years. Source: Frank Smetak
NOTE: The 1927 Mill Photo mispelled Eman and Louis last name as Semtka
Smetak Family Memories & Stories
Frank Smetak remembers ...
(I) still remember back in 1958, my dad Willis & I went down to the Flambeau river in Lugerville around dusk. Dad caught his first Muskie. Also, my great Uncle Eman, took us up the Flambeau to where the rocks start & hooked a muskie, then proceeded to shoot it right between the eyes. He looked like Ernest Hemmingway to me. Being 11 years old, I was quite impressed.
Toni (Mraz daugther) Brendel remembers ...
"Louie Smetak was a great friend of my dad's (Charles Brendle). He used to take him into Park Falls to shop and then they would spend the day together. Dad would come home with fresh eggs from Louie's chickens. they went berry picking and mushroom hunting together and I think they even did a little fishing - not sure about that, but I think so."