Williams
Charles 'Charlie' Williams, Jr.
1920s Aerial photo: House #63 and #69
1927 Mill Employees photo: #61 - Charles 'Charlie' Williams, Jr.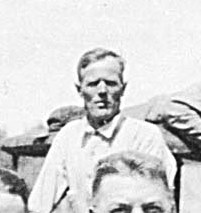 1920 Census:
Charles 'Charlie' age 32 - Head of Household
Mae Belle age 25 (census mis-spelled as Marbelle) maiden name Maebelle Brietzmann
Mildred E. (Milly) age 3
Robert J. age 1 - Robert died at age 1

1920 Employment: Brakeman on Railroad
1930 Census:
Charles 'Charlie' age 43
Mae Belle age 37 (census mis-spelled as Marbelle)
Mildred E., (Milly,) age 13
Norbert James, age 10
Joyce age 8
Claude age 4
Edna Mae age 1
Daughter, Shirley was born after this census - Source: Richard Williams, grandson of Charles Williams, Jr.
Son, Milton was born after this census - Source: Richard Williams, grandson of Charles Williams, Jr.
1930 Employment: Lumber Grader, Lumber Mill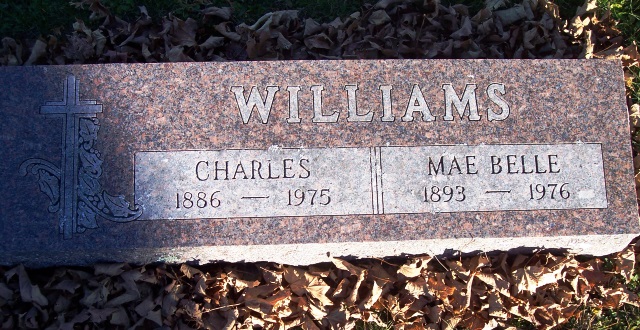 NOLA cemetery, Park Falls, Wisconsin
Source: Richard Orvel Williams, Grandson of Charlie Williams

A Family account by Richard Orvel Williams
Grandson of Charlie Williams and son of Norbert "Pete" Williams
October 27, 2014 11:25 AM
After a beautiful fall trip thru our state; I will try to tell what i know of the Williams family, mostly on memory of my father Norbert and his brother Claude.
It needs to be mentioned that the life of these two was without a lot of mention of their father, Charles Jr, or much else about other family members. It seems that Norbert and Claude were dismissed from the family.
Beginning with Norbert, my father, Norbert "Pete" James Williams:
Dad always told the story of how he got his nickname, "PETE' while attending the one room schoolhouse. He would say that the horse drawn wagon would stop by to pick him up in the morning and he was usually late to get on. The wagon driver, (unknown) would yell out "Hurry up Pedro!!" Thus the name Pete was labeled and stuck with him all his life. When he passed away in 1984, we had to put the name Pete in the obituary. Many who came to the funeral did not know anything of his name Norbert. My dad said he attended Lugerville School until he was 12 years old. Always claiming he would listen to the lessons being taught to those students one year ahead of him, to get thru school earlier than his peers. Nothing I can recall of his childhood memories or names of friends.
He talked about going with Charlie out in the woods to cut Popple trees and how he was sometimes given one bullet for deer hunting and his father would say "Don't come back without a deer". I do not know when it happened, but a major fallout of some kind happened, and my Dad left home to join the old CCC camps. Again, not a lot of info as to where or how long. He ended up somehow in Waukesha, WI, and started driving truck cross country until my only brother James Charles was born in 1945. He then went to work for Waukesha Foundry and retired from there in 1981.
He was a good man with a good heart. Always had a few dollars for those less fortunate and truly loved his Grand Children!
Claude Williams was much the same, but rather than join the CCC work force; he joined the U.S. Army and retired from there after serving 22 years. Claude was also dismissed from the family after bringing home his wife from England. Charles was not happy with her for some reason and kicked him out of the house while Claude was waiting his next destination assignment. Claude came to Waukesha and stayed with our family for about a month with his wife and 2 of his children. His next assignment was in South Carolina where he retired and continued to live until his death in 2008. He lived outside of Columbia, S.C., in a little town called Irmo. He was very involved in the Baptist church there, teaching Sunday School and leading Bible Studies. He and his wife also provided meals for those less fortunate.
As you can see, the two boys were disenfranchised from the family. They would stay in touch with each other by mail and telephone. Both would only say of their father that he was "mean ". Charlie was also crushed under a pile of logs that was stacked at the mill and his spine twisted. Not much of their mother, Maebelle Brietzmann.
I found my uncle Milton during our trip thru the state in the small town of Draper just around the corner from Lugerville. I found his name on the internet and the family description was correct. I went to a local tavern to ask if anyone there knew Milton, and it drew a blank. One of the patrons said "do you mean Hunts? " That name rang a bell and I said "Exactly "!
I followed the directions and found his residence. When he came to the door, there was no doubt it was the right guy. We talked for a while and all he could tell me was he attended Popple Hill School, and that he just turned 80 this past January. Milton did not know of his brothers' deaths. I remember being at Charlie's funeral and the sister Edna Ritter (La Crosse, WI) saying she had to contact the Minnesota State Police to find Milton. My Dad never spoke highly of Milton, nor did Claude. Seems he was the golden child. Milton was somewhat confused on dates of his parents' death, claiming his mother died first. I know this to be untrue and talking of staying in Waukesha with our family. It did not happen. I drove off after the visit and told my wife, I wish I would have found him in a nursing facility in better surroundings and care ".
That is about all I know and I wish I knew more. Driving thru the area and thinking back on the time it happened, made me think the workers at the mill were a hearty folk. I will attach recent photos for your usage.
Best regards, Richard Orvel Williams
P.S. My Mother is named Moore and is from the Kaiser area.
PSS: Also, I am not aware of any relationship with Roy Williams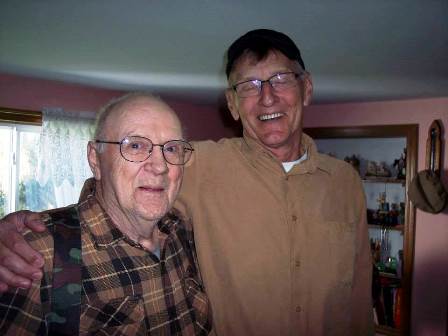 October 15, 2014 ~ left Milton Williams, age 80, youngest son of Charles Williams, Jr.
right Milton's nephew, Dick Williams, Grandson of Charles Williams, Jr.; and son or Norbert Williams
Roy Williams
1920s Aerial photo: House # na
1927 Mill Employees photo: na
1920 Census:
Roy age 33 - Head of Household
Ella age 27
Glendolyn (sp) H. age 8
George R. age 5
1920 Employment: Laborer, Planing Mill