Walter & Anna Averill
CLICK HERE to view Averill Family Stories & Memories (PDF)
1920s Aerial photo: House #47

1927 Mill Employees photo. Walter, age 38, is #127 in the photo.
He was the Bookkeeper at West Lumber Company, Assistant Post Master, and later, Manager of the Mill Office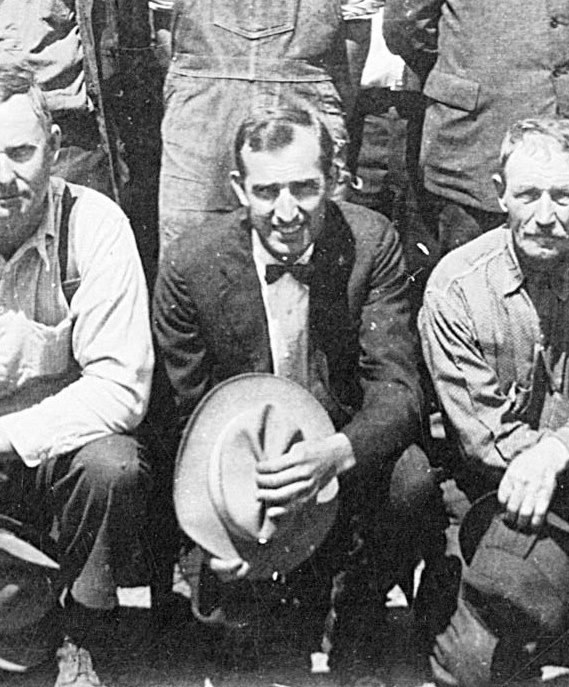 1920 Census:
Walter age 31 - Head of Household. Born in Wisconsin. He came to Lugerville from Hazelhurst
Anna age 30 - Anna had arrived from Sweden with her mother in 1893
Margaret K. age 7 - all children were born in Wisconsin
Marie L. age 4
Dorothy M. age 1

1920 Employment: Bookkeeper, West Lumber Co.
1930 Census:
Walter age 41
Anna age 41
Margaret K. age 17
Marie L. age 14 (future mother of Gordon Stevenson)
Dorothy M. age 10
1930 Employment: Manager, Mill Office
Walter & Anna Averill Lugerville History
by Gordon Stevenson (grandson)
Walter Averill was born in 1888 in Merrill, WI.  An excellent student, he graduated from Merrill High School in 1907, and then attended Wausau Business College.  His first job was Bookkeeper for the Yawkey Bissel Lumber Company in Hazelhurst, WI, where he lived at the Rumery's boarding house on Lake Katherine.  It was there that he met Anna Wickstrom, who was employed by the Rumerys to manage the boarding house.  Anna had arrived from Sweden with her mother in 1893. 
Walter and Anna were married in Hazelhurst in 1911, and their first daughter, Margaret, was born there in 1912.  Walter had known Herman Jahannes from his Merrill days, and after the mill in Hazelhurst closed, he relocated to Lugerville in 1914/15.  Their daughter, Marie, was born in Wausau in 1915; and youngest daughter, Dorothy, was born in 1919.  All three of their daughters attended Lugerville School until the eighth grade.  At that time the girls moved to their Aunt's house in Merrill, all three graduating from Merrill High School in 1931, 1934, and 1936.  Margaret became a school Teacher in White Lake, WI, and married Doyle McCambridge.  Margaret died in 2000.  Marie had started grade school a year early, hence, graduated high school a year younger than her classmates. Her parents had her wait a year before starting college, so she moved back to Lugerville after high school for a year at the age of 17. She taught at Popple Hill School. Marie later became a hospital dietitian, serving as a Captain in the US Army, on an Army hospital ship in the North Atlantic in WWII, until her discharge in 1951 at Brooke Army Hospital in San Antonio, TX, where she married OJ Stevenson.  Marie passed away in 2002.  Dorothy was a Teacher for over 35 years in Antigo, WI, retiring in Merrill, WI.  Dorothy passed away in 2008. 
Walter's duties as Bookkeeper covered all accounting aspects of the mill's operations.  When the mill closed in 1935/36, Walter was tasked with selling off all of the mill's assets.  According to Walter, that included selling the buildings, mill, railroad equipment, and most of the homes, which were disassembled and hauled off.  In 1937, he and Anna moved to Rhinelander, WI, where he served in the same capacity until 1940.  In 1940, they moved to Rib Lake, WI where he carried out the same duties until his retirement in 1948.  He and Anna moved to Merrill, WI, living there until their deaths in 1972 and 1973, respectively. 
For more extensive genealogical information on this family, see www.averillproject.com
View PDF of Averill Family Stories & Memories of early Lugerville 1915-1936
Photos
below left: 1918 Lugerville, WI ~ Averill house faced south;
below right: 1920 Averill chicken coop built by Uncle Charlie Wickstrom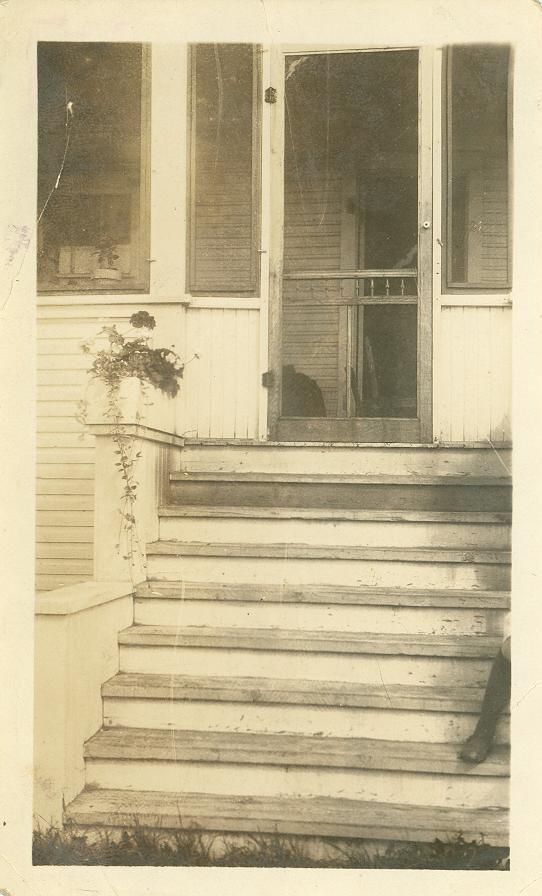 ~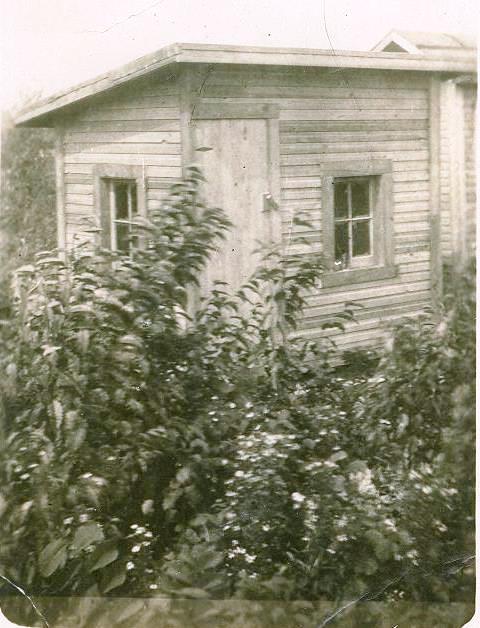 Below: 1920 ~ Left to Right: Margaret Averill age 8, unknown friend, and Marie Averill age 5
Seated on the old stump on the east side of Averill house.
The children used "Averill Stump" as home base for their game "Run Sheep Run"
Photo taken from Averill yard looking northeast toward Kavint or Lowe house?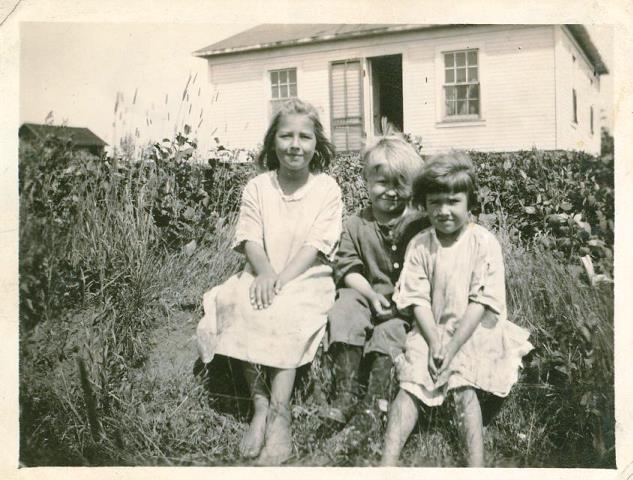 1916 Margaret age 4; 1920 Margaret age 8, unkown friend, Marie age 5; who is in the doorway behind them?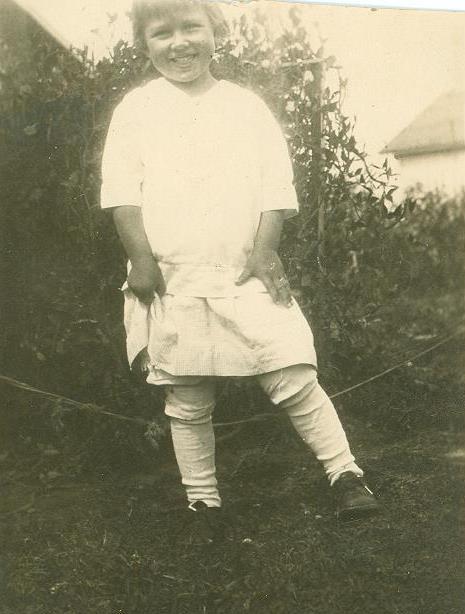 -
~
1923 in front of Averill home, Margaret Averill (age 11), Dorothy Averill (age 4) Averill outhouse in background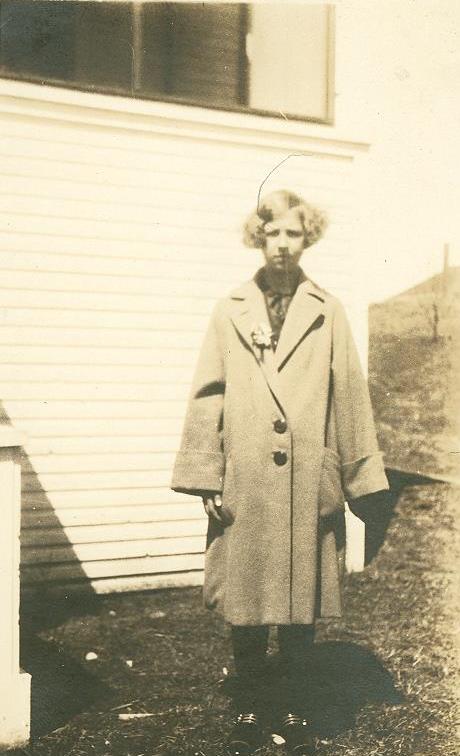 ~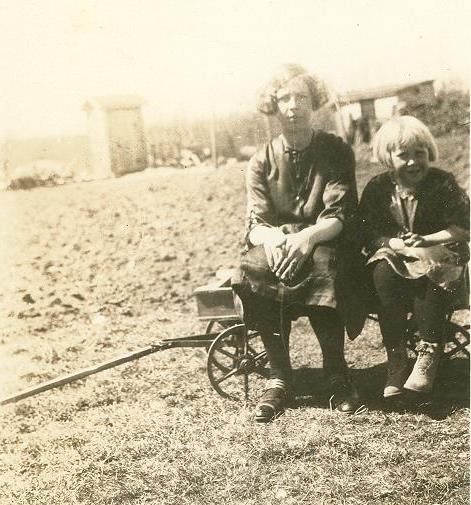 1924 ~ Walter, Anna and the girls at Aunt Lillie and Uncle Al Anderson's lake cottage near Tomahawk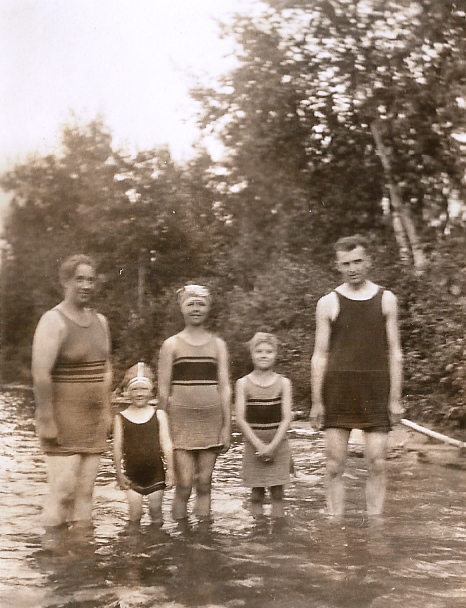 Below left: 1925 ~ Dorothy in Anna Averill's flower garden
Right: 1925, Margaret (in her confirmation dress), garage in background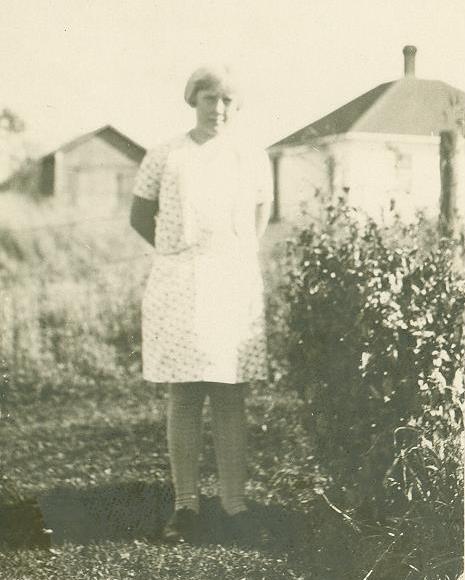 ~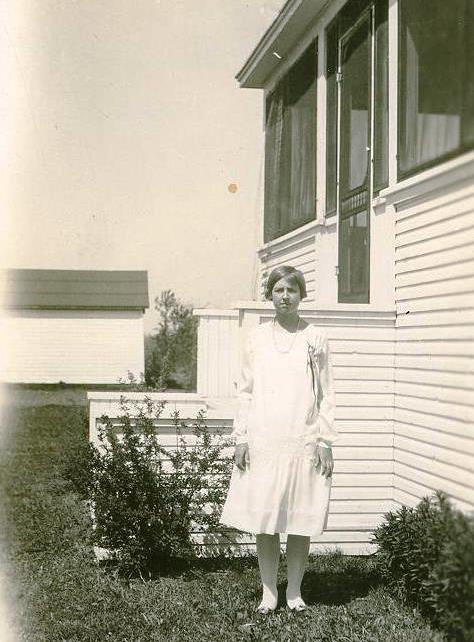 Below left: 1928 Margaret wtih ukulele
Right: c. 1930 Maryann Nelson, Dorothy Averill, Eileen Kenyon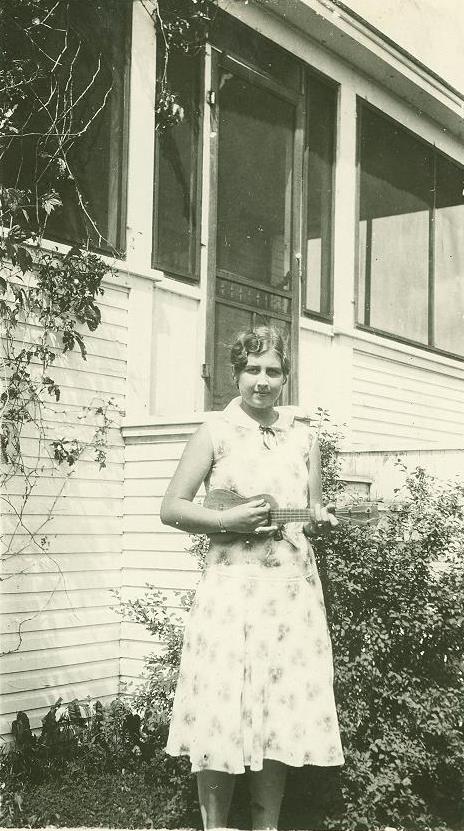 ~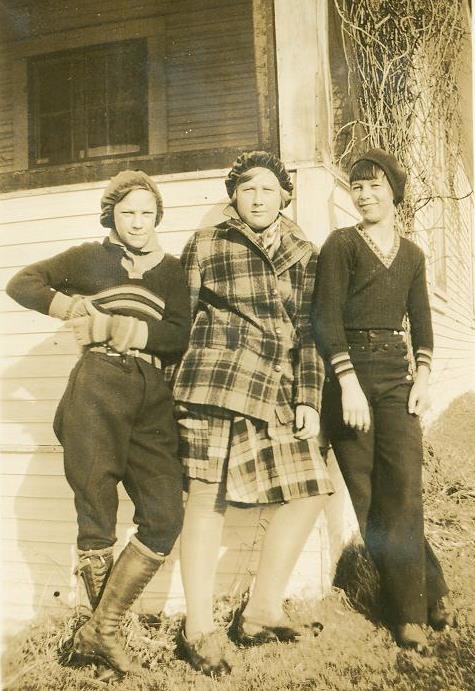 Below Left: 1931 Marie Averill, age 16, in her mother, Anna's wedding dress in front of Averill Lugerville home
Right: Rose Marie Schram family friend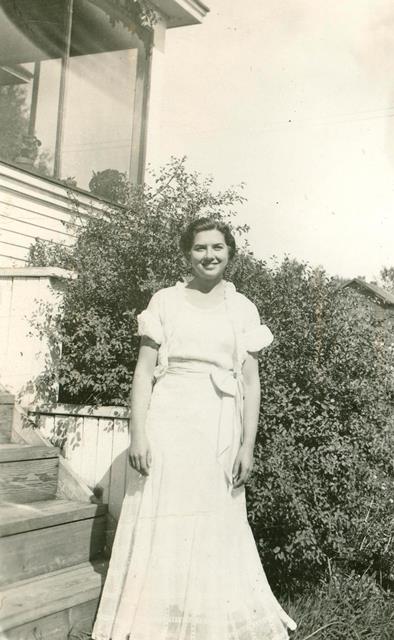 ~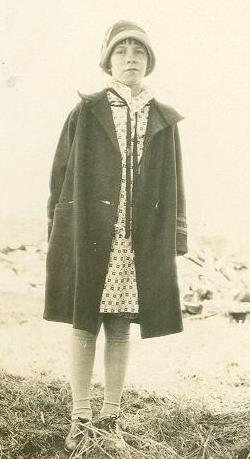 Below: 1932 Marie (17), Dorothy (15) and Margaret (20) with baby Jim Anderson (18mos)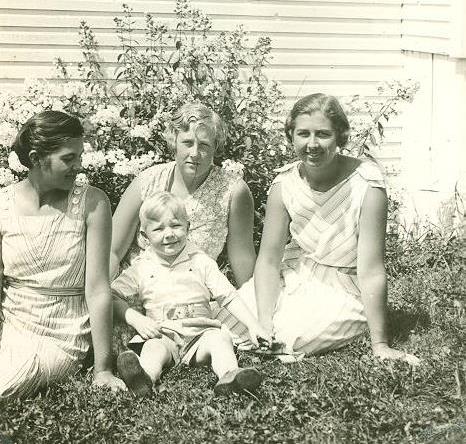 1935 ~ family visting Aunt Lillie's Cottage near Tomahawk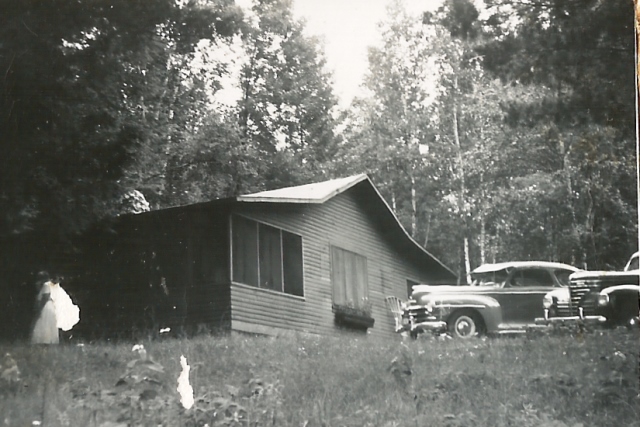 1940 - Walter & Anna's middle daughter, Marie, joined the US Army, as a Captain. In WWII she was the Chief Dietitian on the US Army Hospital Ship, Francis Y. Slanger, the world's largest hospital ship, in the North Atlantic.
Discharged in 1951, at Brooke Army Hospital in San Antonio, TX, where she married OJ Stevenson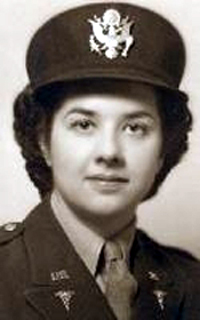 Below: 1947 Walter visiting family lake cottage near Tomahawk
1960, Walter with his grandson, Gordon Stevenson (Marie's son), at the lake cottage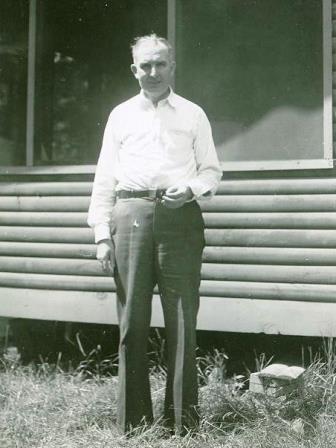 ~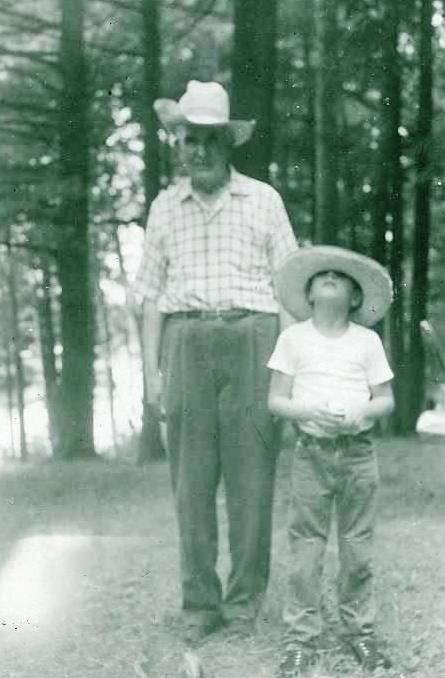 1961 Walter and Anna 50th Wedding Anniversary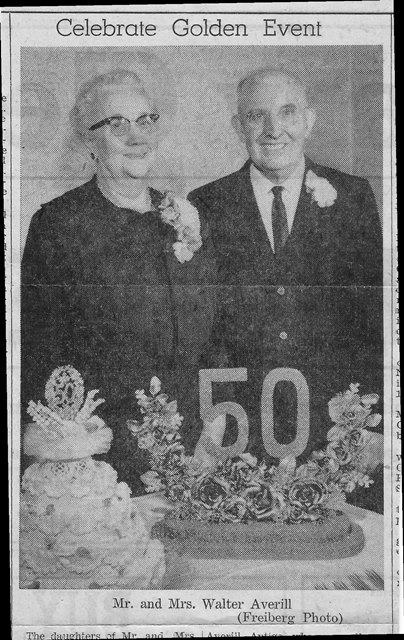 BELOW: 1961 ~ 50th Wedding Anniversary of Walter and Anna Averill, Merrill, WI
L-R: Margaret Averill, Dorothy Averill, Marie Averill, Feffie Bodenburg Anderson, Eileen Kenyon Baratka
The children are Gordon Stevenson and Susan Anderson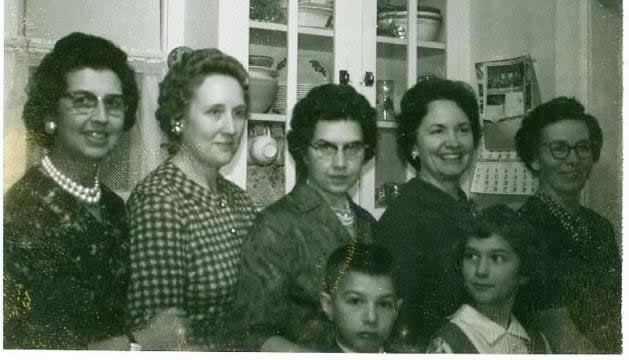 1970 ~ Anna & Walter Averill with their three daughters, Marie, Margaret, Dorothy at Aunt Lillie's Cottage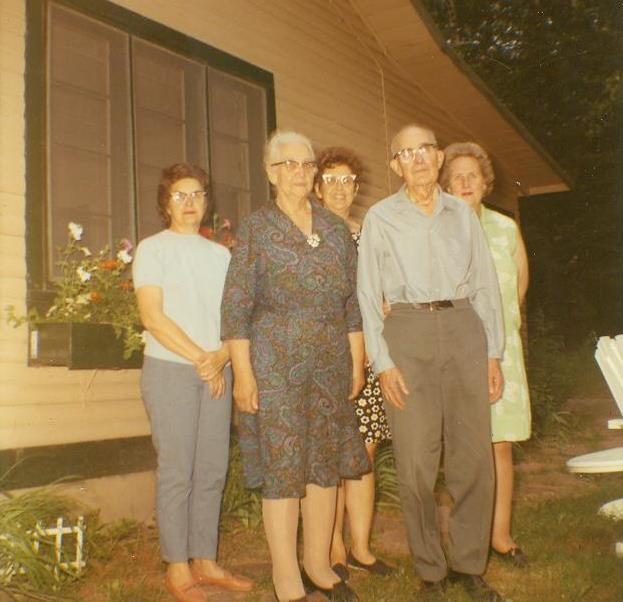 1972 ~ Anna and Walter Averill with their three daughters, Marie, Margaret, Dorothy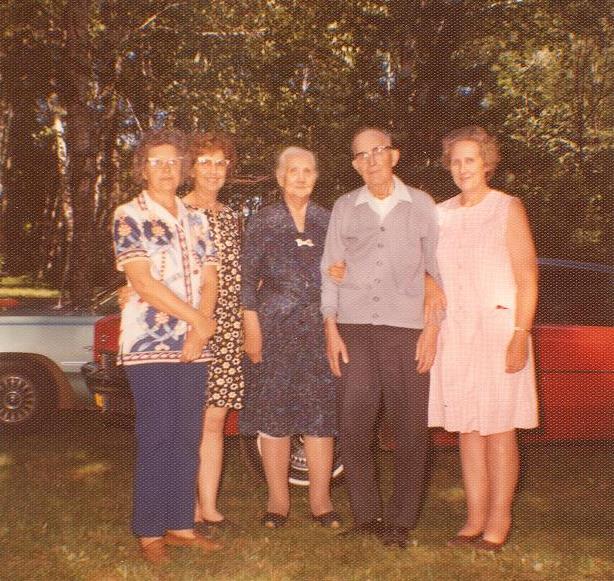 2005 our Aunt Dorothy traveled from Merrill to San Antonio, TX for ner nephew's marriage to Toni Schmid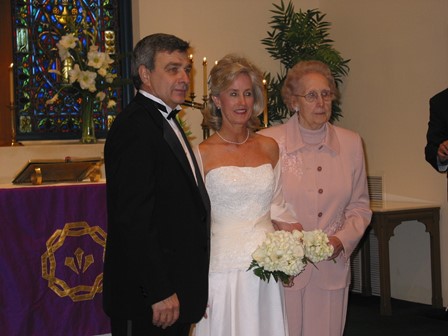 Walter & Anna Averill purchased their new 1941 Plymouth in Rhinelander, WI
54 years later, in 1995, after years of deterioration and corrosion from exposure to the elements, it was hauled to Addison, Texas by their Grandson, Gordon Stevenson and his Uncle. In 2013 restoration was completed by Gordon and the Averill's Great Grandson, Taylor A. Stevenson
In May of 2013, 64 years after Walter first parked it in the driveway of his turn-of-the-century home in Merrill, WI, Gordon and his wife, Toni, trailered it back up to Merrill and nostalgically drove it into Walter & Anna's former driveway on Prospect Street. The restoration also took First Place in it's category at the Tomahawk Car Show.
back home on Prospect Street after 60+ years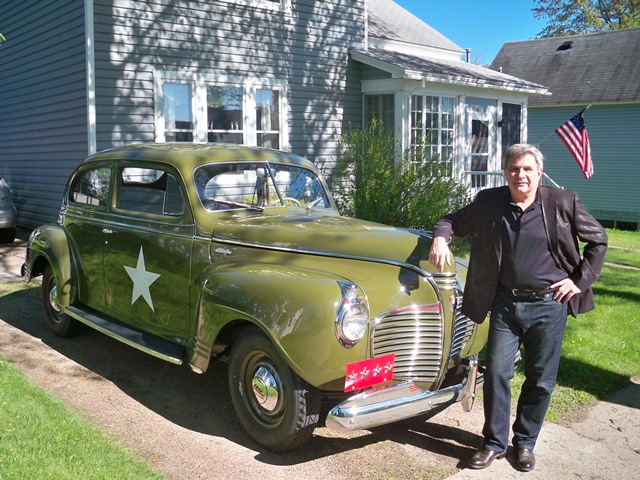 Pictured here at the cottage of Gordon and Toni Stevenson near Tomahawk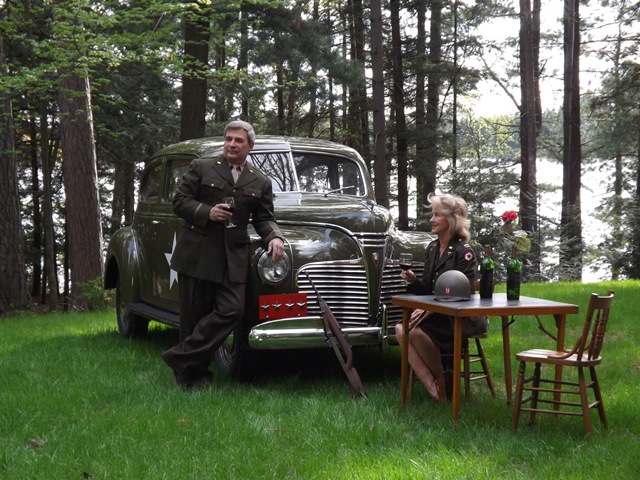 Gordon & Toni Stevenson with Taylor A. Stevenson-Great Grandson of Walter & Anna Averill